Welcome your new Cut coach, Shabo
---
Six years ago, Alex Shabo had never touched a dumbbell. Since then, she's coached at nine different studios and held almost every role within the fitness industry, from captain to general manager. 
Even as a former collegiate athlete, Shabo admits to hiding in the back during those first few group fitness classes. Those initial experiences allows her to meet athletes where they're at — whether it's their first or 500th class — and makes her a welcome addition to the coaching team.
With her name officially on the schedule this week, we're excited to introduce you to your newest Cut coach, Shabo.
What were you doing before Cut? Were you always in the fitness industry?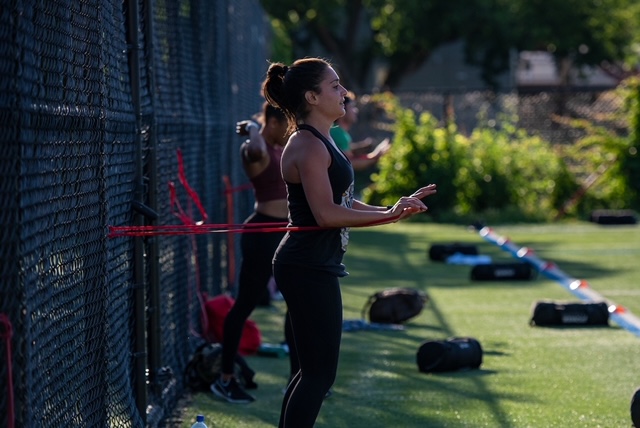 I ran track and cross country in college, yet never hit the weight room. My first time lifting weights was at Body Pump in Gold's Gym. I hid in the back of the room, didn't know what I was doing, and hoped no one spoke to me.
Eventually, I found Orange Theory and the first class I took was with Chris Perrin. I immediately fell in love with group fitness. I walked across the bridge from DC to Virginia each morning to catch the 6 AM class. As I started to come out of my shell, the coaches took notice and asked, "Hey…have you ever considered becoming an instructor?"
I always loved public speaking and meeting new people, and ultimately decided to make a career switch. At the time, I was working in account management for hospitals, and can honestly say coaching gave me my life back. 
How did you find Cut?
I took my first Cut class in 2016, and there was just something about the community where I thought, "I would love to coach here."
When COVID-19 happened, I left group fitness altogether. While I navigated finding a new challenge and a job I enjoyed, Cut remained my constant throughout the pandemic. It's a place where everyone is excited to see you, whether you come once or five times a week. (Side note: I never imagined a world where everyone refers to me by my last name.) I'm so grateful for the athletes and coaches for making me feel welcome during a time I felt so disconnected. 
Ultimately, Cut is what drew me to stay in the fitness industry. Cut Seven is a place where every person can get variety in their workouts and safely progress as an athlete, all without getting caught up in the distractions of a group fitness setting.
How did your past experience as an athlete shape you as a coach?
Growing up, I was a distance runner, ballet dancer, and soccer player. Unfortunately, weight training did not hold a place in my high school or college programs. I became incredibly injured my freshman year due to the heavy mileage required of us.
Post-graduation, I kept running long distances. There was a year span where I ran a half marathon every single month. After I completed my first full marathon, I thought, "Never again." I was bored, injured, and craved connection with other athletes, rather than running solo miles on the street. 
As someone who experienced chronic injuries, I will call you out if I see you doing something that isn't right for your body. I coach to effort and feeling — teaching you how and where you should feel a given exercise. My hope is for you to build better awareness of your body, rather than simply going through the motions. There is no bigger compliment than when an athlete says, "Wow, I felt that in my glutes for the very first time."
Did a former coach or mentor make an impact on your career?
Absolutely. My first job out of college, I worked for this guy who was extremely picky. When friends or colleagues learned who I worked for, their response was always, "That's the toughest boss you'll ever have." And yet, he was the person who helped shape my career.
He once told me, "When you show up in a room and you're not authentic, you bring yourself down three pegs." He taught me to show up, ask genuine questions, and get comfortable with simply being myself. That's what ultimately led to my personal style of coaching.
In the fitness industry, some people believe that in order to succeed you should mimic the most successful coaches. That is not me. I will always choose being myself over being someone else. I know there are athletes who love — or don't love — me, but at least they know what to expect when it's my name on the schedule.
How do you connect with athletes in the room?
When I first became a fitness coach, I dealt with a lot of insecurities. I am a regular human who battles imposter syndrome, never feeling like the best or most experienced. 
Cut helped me change the way I think about myself. At Cut, it's not about how you look, what you wear, or how fit you are. It helped me show up confidently in a room, staying humble without being embarrassed. When I first started taking classes, I couldn't even do a box jump. 
I'm grateful for the athlete I was and the athlete I've become. Being able to say, "I've been exactly where you are," helps me connect with athletes inside the room. I know what it's like to ask, "Can you teach me this?" over and over, setting my ego aside to help reach that next level. 
What can the team expect from your classes?
Building trust is hard, but it's something I try to establish quickly with athletes. I have a tough-love coaching style — I'm friendly and crack jokes, but I'll also call you out on your bullshit.
Within my own fitness journey, I always appreciated it when a coach said, "Here's what you did wrong, and here's how we're going to fix it." I try to be very aware of the room and the people in it. One of the best compliments an athlete ever said to me was, "You coach a room full of 50 people, yet make me feel like I'm the only one there." 
5 fun facts about Shabo
She did ballet for 15 years

She's tried the best nachos at 15+ DC restaurants

She once biked from Paris to Rome 

She called 911 when she was six because she "lost" her sister 

She was once hospitalized after being stung by a bee