Just a Dollar and a Dream
---
Pt. 1 Just A Friend
She was sixty pounds overweight and told me her name was Alex. She greeted me from an elliptical machine, she was breathing heavy through her warmup. She told me she had trained with "every personal trainer in DC" and no one could help her. She got bored easily.
I wasn't sure I could help her either. Sixty pounds is a lot, she wanted to train at 6:30 at night three times a week and my typical day started at 4:30 a.m. I was tired, working as an accountant during the day as well as going to grad school. I wasn't sure if this was worth the $15 an hour I was getting paid. But damn if she wasn't pretty. I think in the split second I met her I fantasized about me helping her lose weight and her being forever in debt to me and marrying me, her hero.
So I said screw it, let's do it. I worked my ass off creating interesting workouts for her. As time passed, the weight started to come off. The friendship grew and somewhere in there I quit grad school. She worked for a bunch of nightclubs, so we would go out and dance until they turned the lights on. We were just friends but the bond between us was growing strong.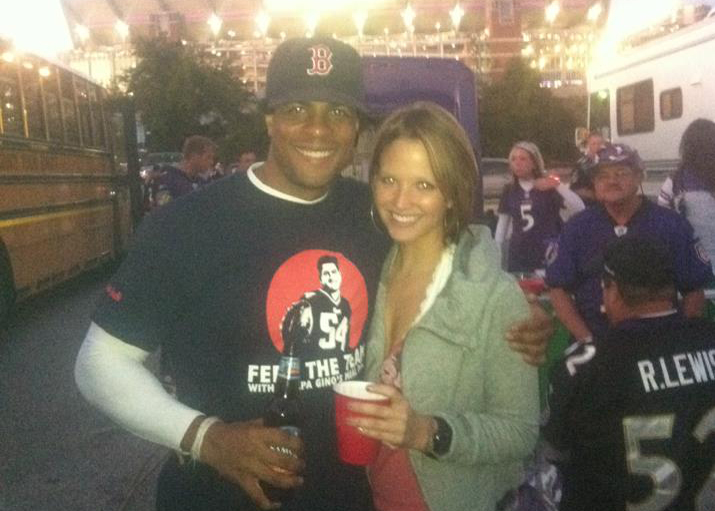 Just Business
Alex was constantly asking about "my training business," and how I planned to take it to the next level. At the time I didn't realize I had a business. I was making peanuts personal training and teaching group classes on the weekends for free. She encouraged me to invest in a website and branch out on my own. I had never thought of it before. I was training folks as an escape, an escape from the numbers—I had nightmares about excel spreadsheets. I didn't need the money. But Alex saw something in me that I didn't see myself, and I trusted her.
At this point I'd known her for about five months and she had lost 40 to 50 pounds. We had gone to a friend's wedding together and even though we'd never even kissed, we might as well have taken our vows that night as well. We were in love.
Alex started teaching classes for me. I developed a program called PEAK HIIT and Alex took off with it. As a former dancer and dance instructor, teaching fitness came naturally to her. While I was teaching the class to a small group in an Arlington park, she was teaching it at gyms in Arlington, Washington Sports Club, and the White House Athletic Center. I never thought about expanding the class, but Alex had bigger plans for it. From that point on I knew that if I were ever going to succeed, I would need her by my side.
Pt. 2 A Dollar + A Dream
Sixty pounds and seven months later, Alex and I finally became official. Alex moved on from the nightclub scene and moved into fitness. She started at Lululemon then moved on to help a cycle studio expand from Washington DC to New York. After that she joined [solidcore]'s leadership team, and she began her career as a full-time fitness instructor. I was still working full-time as an accountant, personal training every morning and night, all while teaching classes for Nike and renting a small community center to hold classes.
It was never spoken but it was always implied, she would learn all she could about the business side of fitness and I would hone my skills as a trainer and creator. We were a team—divide and conquer was the strategy from day one and it continues today.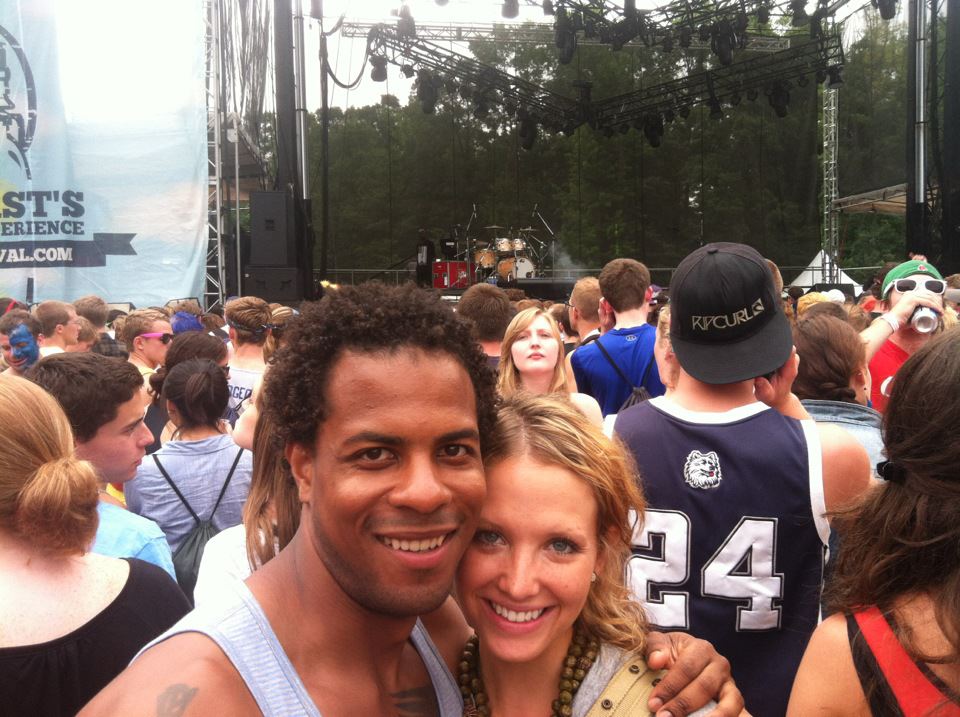 Pt. 3 Sweat + Tears
Before the wedding we started traveling the country, trying different forms of fitness. We wanted to start a business of our own, something that would marry her love for variety and intensity with my background in personal training and athletics. We knew the format and class for our then hypothetical gym, what we hadn't figured out was the vibe we were looking for. How did we want our coaches to coach, what did it feel like when you stepped through the doors, who do we attract, and who do we turn off?
To help fund the project, I began teaching classes at OTF while she was teaching cycle at Flywheel. We were used to teaching classes as small as three people and as large as 300. We had been teaching a sports conditioning / high-intensity interval training class for years, testing and modeling to find out what we could bring indoors. A twice weekly class, about twenty psychopaths would show, regardless of rain, sun, or snow at 6 a.m to get absolutely punished on this giant turf soccer field. We would load up Alex's trunk with equipment and lug it all down to the field on a hand dolly (we went through three dolleys because they were all breaking under the weight of the equipment). It was miserable and so much fun at the same time. It was great to push people to their absolute limit, but exhausting always coming up with new ways to challenge them. It also gave us a skewed view of what people actually want to get out of exercise; not everyone wants to die every workout! That was a lesson we didn't quite realize until after we opened.
Pt. 4 Mom & Pop
About a year after our wedding we finished our business plan. We had about $50,000 saved and we knew it would take over $300,000 to get off the ground. We applied for every loan imaginable and were finally accepted by the Small Business Administration. We took an accounting of everything we had and realized we were still short on funds. Alex was ready to sell her ring, we were prepared to move in with her parents, all the while saving every dollar we made. We emptied out our retirement, we maxed out our credit, and borrowed $10,000 from family. Then we found out we were pregnant.
Construction was delayed by 3 months and we needed to make money or our business was not going to make it off the ground. Our broker, Neighborhood Retail Group, found a vacant furniture store that would allow us to hold classes while our location was being built. We taught classes every morning and every night, with sporadic daytime classes. People joked about Alex not being there some days. "Did you guys get into a fight?" They'd ask, "No she has morning sickness," I wanted to say. But yes, we were fighting, a lot. The stress of not knowing if your business is going to get off the ground on top of having a baby on the way was overwhelming for me. Alex took it in stride, but I am a little more high-strung. I had been working my ass off for the past five years for all of this, and it seemed like it was never going to happen.
We decided to keep the pregnancy to ourselves until we couldn't hide it. Alex was still teaching classes at the pop-up location. She was going all over the city looking for coaches, interviewing them and finally leading a coach training. I was still going to GW to work as an accountant. The plan had been for me to quit before the studio opened but with a baby on the way, the cost of health insurance was something we could not take on. We were both burning the candle at both ends. The only thing that saved us was that we had each other. We were not alone in this and our support system was about to get a hell of a lot bigger.
Pt. 5 We Talking Teams?
Before opening the studio we had our diehards, those who would follow us to the ends of the earth. These folks got us off the ground at the pop-up. They came twice or three times a week, most from far distances to workout with us. Alex had a cult following in DC and a lot of those people were our first teammates.
Then we started to meet folks who lived in our neighborhood. They came to the furniture store, got to know us, we got to know them, and the rest is history. We charged $15 per class, they came to try out a workout they had no information on, and the word spread. They didn't know it but they were saving us. When we finally opened we had a small but consistent base of athletes that came to workout with us. We wouldn't have made it without them. We knew we weren't going to make it by ourselves, we knew we needed a team.
Right before Thanksgiving 2016 we were told we have 48 hours to vacate the furniture store. They had found a permanent tenant and needed us out ASAP to begin construction. We were still a month away from opening the permanent location, and without the steady stream of income from the pop-up we once again unsure of our fate.
We decided to run a presale, selling memberships and packages at a steep discount to drive sales so we could complete construction. We didn't have a website and had no way of advertising other than a sparse Instagram and Facebook feed. We couldn't even show picture of the studio because we didn't get electricity until the day before we opened.
Luckily, word of mouth spread and a lot of people were interested. The presale did well enough to get us off the ground and pay the contractors enough to get them to complete the job. When the lights turned on, we opened. We didn't have the proper permits, but we couldn't wait another day. On January 15th we held our first class, and it was a mess. We were raw, all over the place, and running on fumes. Alex and I were teaching all of the classes at the start, slowly onboarding coaches as the weeks continued. What should have been a month of free classes to test the format became a month of me going in before the 6 a.m. class to test the workout before administering it to a class. All while Alex was six months pregnant and I was still working as a full-time accountant.
Little did we know we had a small but loyal group of athletes who believed in us and hung in there while we worked out the kinks. Most are still with us today and for that, we are forever grateful. Our team isn't made up of clients, co-workers, and athletes; these are our friends—people we couldn't imagine not having in our lives. It takes a village to raise a child but we have a city.