Welcome your new coach, Amelia
---
Growing up in a large, competitive family helped push our newest coach to be determined and strong. When you're the third of six kids, you learn how to be scrappy, smart, and work hard for what you want. And it shows. She taught a Cut Seven Coach-in-Training class in the rain with thunder and lightning without even flinching and you'd never know it, but she tore her ACL twice and still trains and coaches like a badass. 
We're excited to welcome Coach Amelia to our Cut Seven family! Rain or shine, we will always have two claps for her. 
YOU SPENT A BIG PART OF YOUR CHILDHOOD IN NEW ZEALAND. THAT IS SO COOL! WHAT WAS THAT LIKE?
I was there for five and a half years. We moved overseas when I was seven because my dad started a business and it was awesome! I've never played outside so much in my life before! I read a lot. It was a beautiful life and I got to be a bit of a ragamuffin — bare feet, scraggly hair, and I didn't care what I looked like. We lived on an orchard. We had sheep. We did all sorts of chores. To this day, I still really love travel and being outside because of my time there. 
WHAT GOT YOU INTO FITNESS? DID YOU THINK IT WOULD BE YOUR CAREER?
My parents put my older brother into lacrosse. I also started playing and really latched on to it — I really loved the hand-eye coordination and its competitiveness. 
When I went to college, I decided to study business marketing and management. Out of college, I worked for a tech startup doing sales and business marketing and I felt like I was burning the candle at both ends –working long hours, commuting a lot, and to be honest, going out too much. The next four years of my life were pretty miserable and everything started to affect my mental and emotional health. I started getting professional help and that process made me realize just how important movement and exercise were to me. 
I really wanted to train people to show how important movement could be to them too. I knew that this was where I was meant to be. My family and friends didn't get it at first.
THAT'S TOUGH. WHAT GAVE YOU THE CONFIDENCE TO SAY "I KNOW THIS IS THE RIGHT THING TO DO AND I AM GOING TO DO IT ANYWAY" WHEN YOUR FAMILY WASN'T SO SURE?
My parents were really focused on academics so this type of career didn't make sense to them, but I knew myself well enough and knew that if I put my mind to it, I could make it a success. If they just gave me a couple of years, they would see that I was right. I knew it in my gut and I knew that I was going to go down the wrong path if I stayed where I was in my corporate job.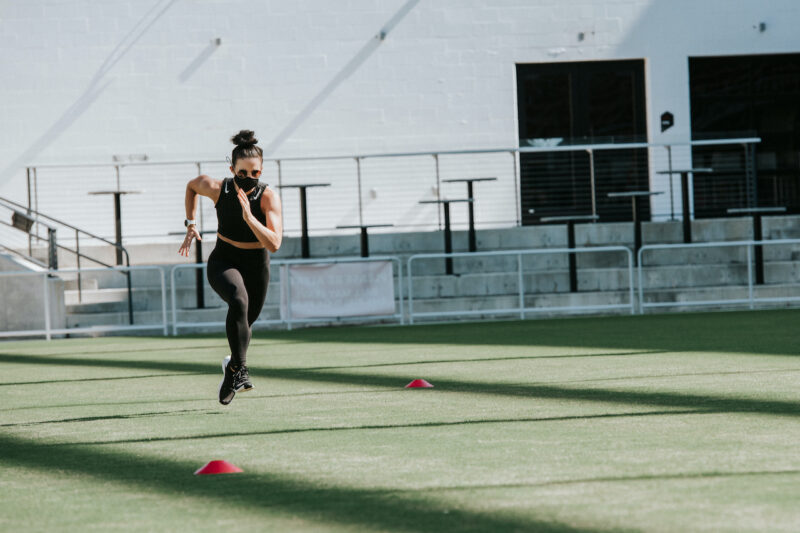 YOU MENTIONED SUCCESS. WHAT DOES THAT LOOK LIKE TO YOU?
Success for me is super simple. I'm successful if I feel like I've treated others with respect, served others, and lived up to being the person I know I can be. And I've been able to see in the people I've trained, especially women, how training can change their whole lives. It can make them feel empowered and strong. So for me, it is less about the monetary and the aesthetics of being in the fitness industry and more about servant leadership. If at the end of the day, I have served others, that is a privilege and that is success to me.
ARE THERE ANY CLIENTS THAT HAVE REALLY IMPACTED YOU?
I have an 82 year-old client with Parkinsons, who I box with because it works his hand-eye coordination and balance. He really shows me that you can be any age and transform your life with movement.  
Recently, he contracted COVID-19 and at our first socially-distanced, in-person session after his tests were negative, he looked at me and said "I don't think I could have gotten through that without this training." It really touched me knowing that training helped him get through it. 
WHAT DREW YOU TO CUT SEVEN?
I didn't know too much about it until I showed up. I loved it from the get go. I walked in the door and Akina checked me and was so uplifting and nice. I loved the team mentality and it didn't feel cheesy or fake. And when we got to the actual workout, I said to myself, "these people know their shit." I listened to the demos and knew that it was good programming. I believed in the meat and bones of what Cut Seven does, so I was sold after that first class. 
WHAT DO YOU WANT ATHLETES TO TAKE AWAY FROM YOUR CLASSES?
What you do out on the field or in the studio is really preparing you to be the best you can be in everyday life. It is more than just an hour of your time. It will feel invigorating and sometimes it may be uncomfortable but there is something so fulfilling or rewarding about pushing yourself. If you can push your body to its limits then truly what can't you do? It is so empowering. 
5 THINGS YOU MIGHT NOT KNOW ABOUT AMELIA:
Her favorite TV show growing up was

I Love Lucy

.

Her favorite exercise is anything involving using a single leg (like single leg squats or single leg Romanian deadlift). 

Her favorite DC food spots are: Le Diplomate (which is very handy for the Cut location!), Eastern Market, and Union Market. 

She was homeschooled while she lived in New Zealand. 

She loves dogs, especially giant Dobermans.